For a better experience, click the
icon above to turn off Compatibility Mode, which is only for viewing older websites.
Deferred Gift Annuity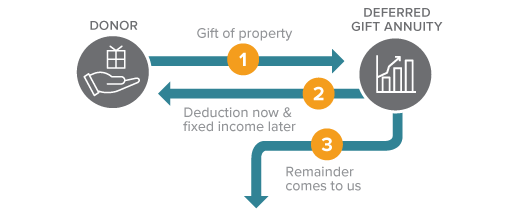 How It Works
You transfer cash or securities to Drexel University. Our suggested minimum gift requirement is $10,000.
Beginning on a specified date in the future, Drexel begins to pay you, or up to two annuitants you name, fixed annuity payments for life.
Beneficiaries are recommended to be 65 or older to begin receiving payments and must be at least 40 to fund the gift.
The remaining balance passes to Drexel when the contract ends.
Benefits
Deferral of payments permits a higher annuity rate and generates a larger charitable deduction.
You can schedule your annuity payments to begin when you need extra cash flow, such as retirement years.
Payments are guaranteed and fixed, regardless of fluctuations in the market.
The longer you elect to defer payments, the higher your payment will be.
Download a brochure on this topic:
Next
Contact us so we can assist you through every step.